SPREAD THE WORD
In a world inundated with cell phones and mobile devices and people communicating and sharing their thoughts around the clock, there's a good chance a lot is being said about your business. We offer services that pick up and promote the positive while burying the negative.
---
Showcase Your Best Reviews
When someone leaves a positive review, you will of course want to show it off and showcase it for others to see. This will not only highlight your business's stellar service, but encourage others to share their positive experience. By placing these reviews directly on your website, potential customers will develop a strong first impression of your company.
When customers are deciding on which company to go with, seeing your ultra positive reviews first can make the difference. People are much more trusting of fellow customers than what the business says about itself and these reviews are great marketing. They will also help to boost your overall online reputation.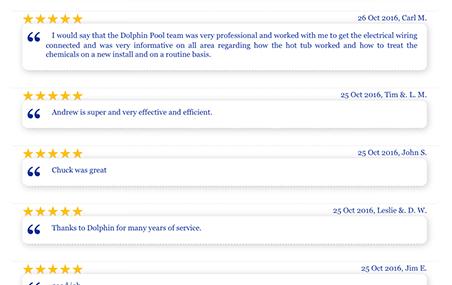 ---
Feature Reviews on Social Media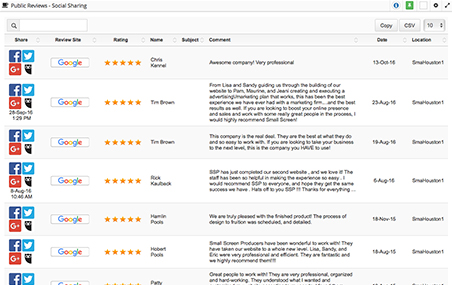 A large portion of our population uses social media as an outlet for nearly everything, including reading reviews for businesses before they make a purchase or invest in a service. When you take these positive reviews and feature them on social media, you are spreading the word about your business while also directing traffic back to your site. And with the click of only one button, Facebook and Twitter users can share or "like" these reviews, which will further promote the content on the pages of others.
In addition to reading and sharing reviews, social media is a great platform for chatter about your business. Customers can use hashtags or even tag your business in a comment or status. However, these reviews can either be positive or negative. We manage online reputation for this very reason and ensure that the positive comments stand out over the negative.
---
Drown Out Negative Reviews
Negative reviews will happen. Despite how hard you and your employees work to give your customers the best, there will always be a misunderstanding or that one customer who just can't seem to be pleased. And they can often be very loud online. But by promoting positive reviews, we can "hide" the negative so they harder to find.
However, we don't run from it. When a negative review does pop up, we will be notified so that you will be able to determine your plan-of-action. We will be able to bury the review, but you have the opportunity to turn an unhappy customer into a happy one. Together, we can work towards building up your online reputation and improve your business simultaneously.