Reputation Is Everything Protect and Nurture Your Good Name Online with Our Comprehensive Reputation Management Program.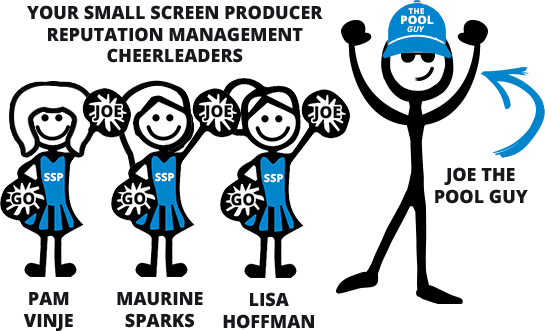 MEET JOE…
We Like Joe!
Joe owns a pool company and he is empowered to the next level because Joe has the SSP team monitoring social media, news sites, and business directory listings while he builds pools. His customer service has gone through the roof because the program helps him address customer service issues before they become public time bombs. Now, all of his word of mouth referrals are being translated into Google reviews and he's making more money than ever! Be Like Joe
OUR REPUTATION MANAGEMENT PROGRAM AT A GLANCE
Customers share feedback daily on hundreds of online business directories, review sites, social media, and bookmarking sites. This wealth of chatter- whether good or bad- affects your brand in a huge way. Regular management of your online reputation is necessary to keep your business running at its optimum performance.
Through a proactive reputation management program, we monitor your social media and online reviews, help you collect new reviews, and help your business grow and protect its reputation for years to come. With help from your dedicated reputation account manager, you have the power to filter through and respond to new negative reviews before they are even published on your channels, showcasing your absolute best testimonials on your directory listings, social media profiles and website.

Online Monitoring
With a selection of over 300 review sites, we protect your business's online reputation by monitoring any and all reviews.

Analyze Reports
Weekly and daily email reports will keep you in the loop concerning your business's online reputation, and how it's being managed.

Administration
Sub-accounts will allow for you to manage reviews with assigned workflows, action, assignment and historical notes.

Showcase Your Brand
To improve your reputation management, we will boost positive reviews and bury negative ones, showcasing the best parts about your business.

Location Management
We will highlight your business on popular sites and online maps so that potential customers can easily access and visit your location.

Evaluate Trends
Upon review, we will pick up and evaluate the latest trends to assure you that your business is where it needs to be in the online world.

Email Alerts
Receive an email alert when a review about your business was written, so you can respond to it in real-time.

Social Media Management
By sharing positive reviews across your social media platforms, we will give your audience the opportunity to share and promote your brand for you.

Gather Reviews
In order to respond appropriately to both positive and negative reviews, we gather this customer feedback for you from all corners of the web.

Build Your SEO
Search engine optimization (SEO) will direct potential customers right towards you when they are searching the web for your service.

Verify Your Listings
When we list your business on directories, we will ensure that the information is correct and consistent across all websites and platforms.

Encourage Positive Reviews
Creating convenient places for customers to leave positive reviews will increase the number of reviews your business receives.