Capture Customer Feedback
Your online reputation is a powerful asset that plays a big part in helping your business grow. With Internet Reputation Protector, positive reviews will become part of an ever-growing solid base to protect against negative reviews. We will also turn negative reviews into a way to identify and address opportunities and turn them into strategies to improve your business and online reputation.
---
Collect More Positive Reviews
When a customer is upset, they might be more inclined to leave a nasty review than those who had a pleasant experience with your business. In order to promote better customer feedback online, we implement easy-to-use tools for all of your customers. This way, customers who have something nice to say will be encouraged to do so.
These positive reviews will bolster your online reputation and act as a buffer against the occasional negative feedback. Plus, by taking the negative feedback offline, you will be able to address the issue with the customer directly and have the chance to turn a bad experience into a customer service success story. With the wide range of review pages available and growing reliance on them for purchase decisions, boosting your company's online reputation will make an impact across the world wide web and on your bottom line.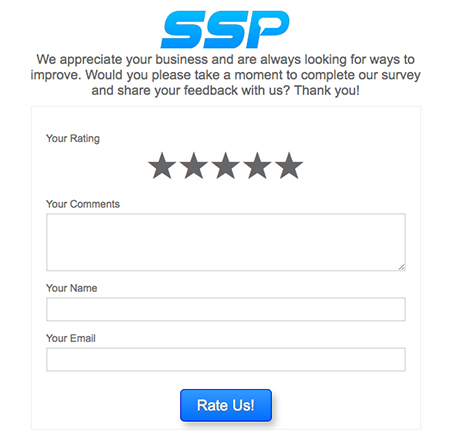 ---
Provide Access to Review Pages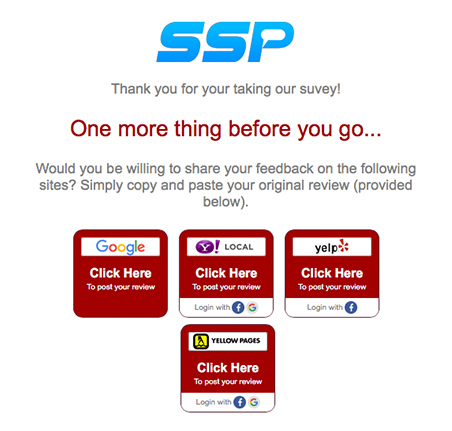 Providing quick access to review pages connected with your business will remove the guesswork from review submissions with your customers. Those who want to leave a review will find it easy to do so right then and there and won't decide to "come back later" and possibly forget about it. Thanks to this improved process, you can capture positive reviews while customers are still motivated and the experience is fresh in their mind.
By boosting this aspect of your online reputation, you will be able to keep other aspects of your business – both on and offline – consistent and efficient. Additionally, direct reviews will be collected in one place through your webpage so that they can be easily accessed by both you and potential customers.
---
Increase Chatter About Your Business
In addition to standard review sites, customers will talk about your business on all kinds of platforms and settings. We will encourage this "chatter" and then leverage it to increase your SEO, all while monitoring these comments to eradicate the negative and promote the positive. With so many sites and so many platforms, it takes a professional team like the one you get with Internet Reputation Protector to monitor it all.
Part of monitoring this chatter also involves reporting and responding to it. For instance, if there is a negative comment about your company, it will be taken down, but if someone is asking a question about your services, you will be able to respond to it in real-time. This type of interaction will help you boost your online reputation, get more business, and be beneficial in both the on and offline worlds.